Sunday kicked off looking great. Interesting sunrise, warm day, and clearing skies.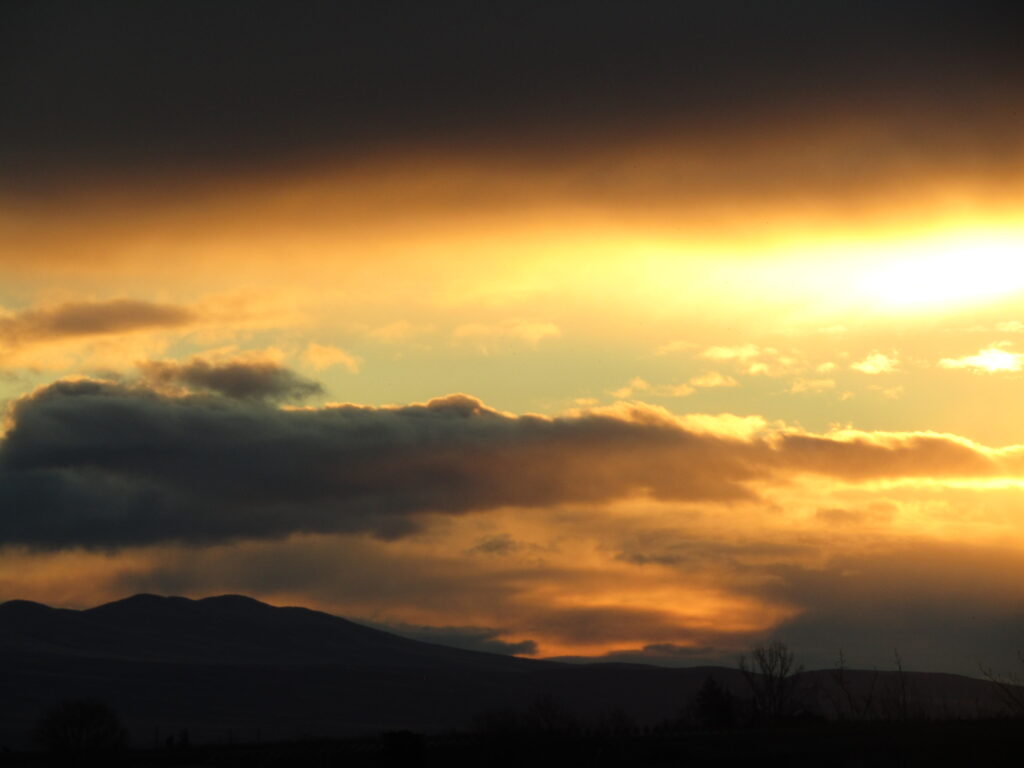 I rolled down the drive around 1, to continued blue skies, low 60s (F), and not much of of a breeze. Were it already fly fishing season, I would be loaded with gear. This day, a camera.
I had a few places I wanted to see, and a strong desire to scout some new spots, too. Always interesting to see where trees have fallen, rocky sandbars either created or washed away, and other riverbed changes. Although this was early in the preseason, it's a good time to check for major shifts.
Tieton River
This river runs with the tailwater from the dam at Rimrock lake, and as a result has usually been at least faintly milky in appearance, cold, and fast. Even in the season when the dam does not release a high volume, the narrow banks create runs that are often still quite quick.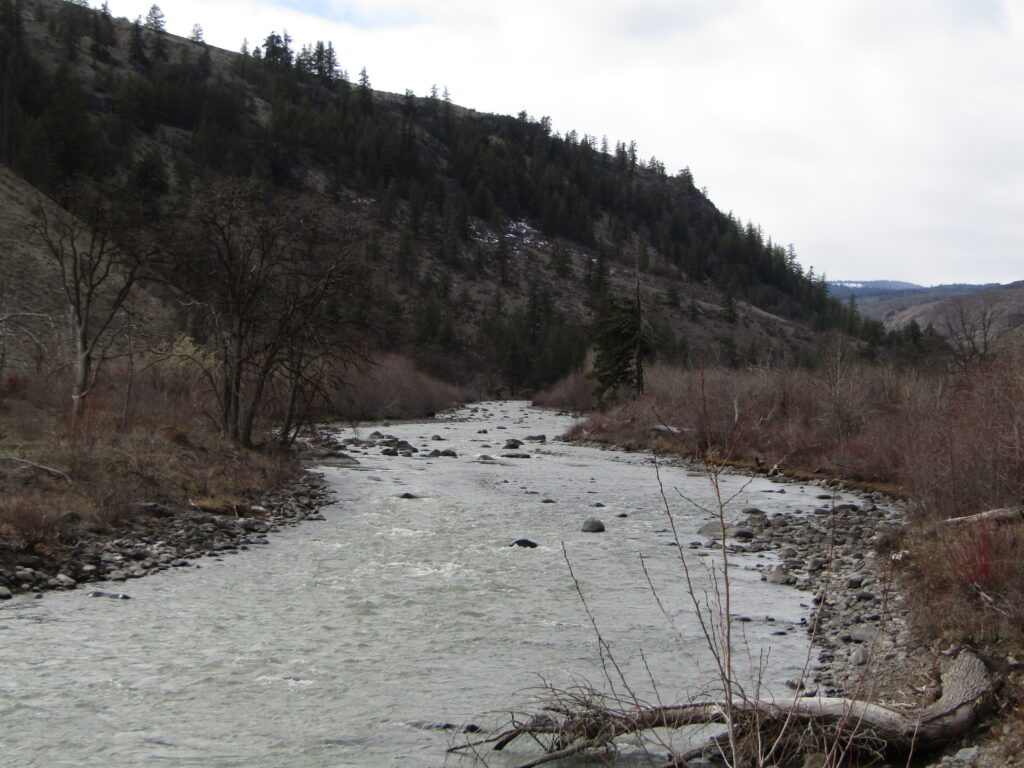 On the drive up, some clouds had rolled in, but it was still an excellent day. The dam was showing a gauge height of 2.66ft, making this a relatively light day. Nice rocky banks, and shallow enough that the riverbed had good rock protrusions and trailing pockets. I even managed to find a couple of wade-in locations I had never seen, previously, and look forward to giving them a try once fishing season kicks off.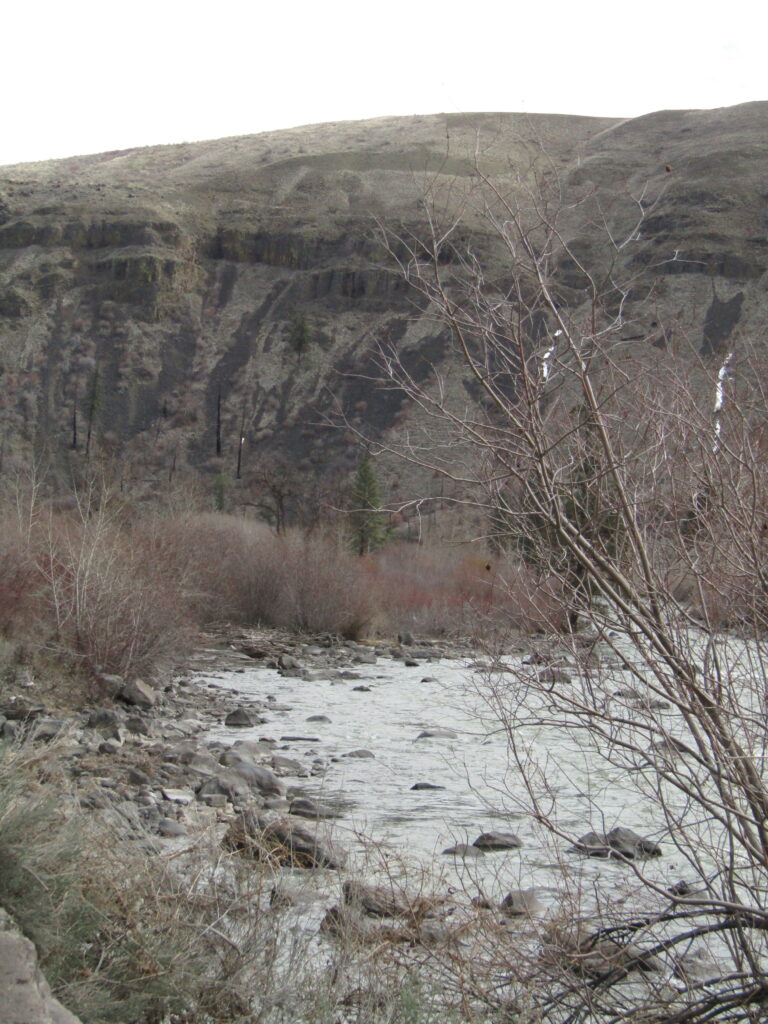 Also…a quick shot of a Merganser, out in the middle of the river, presented itself, while scanning for good sized rocks and deep pockets.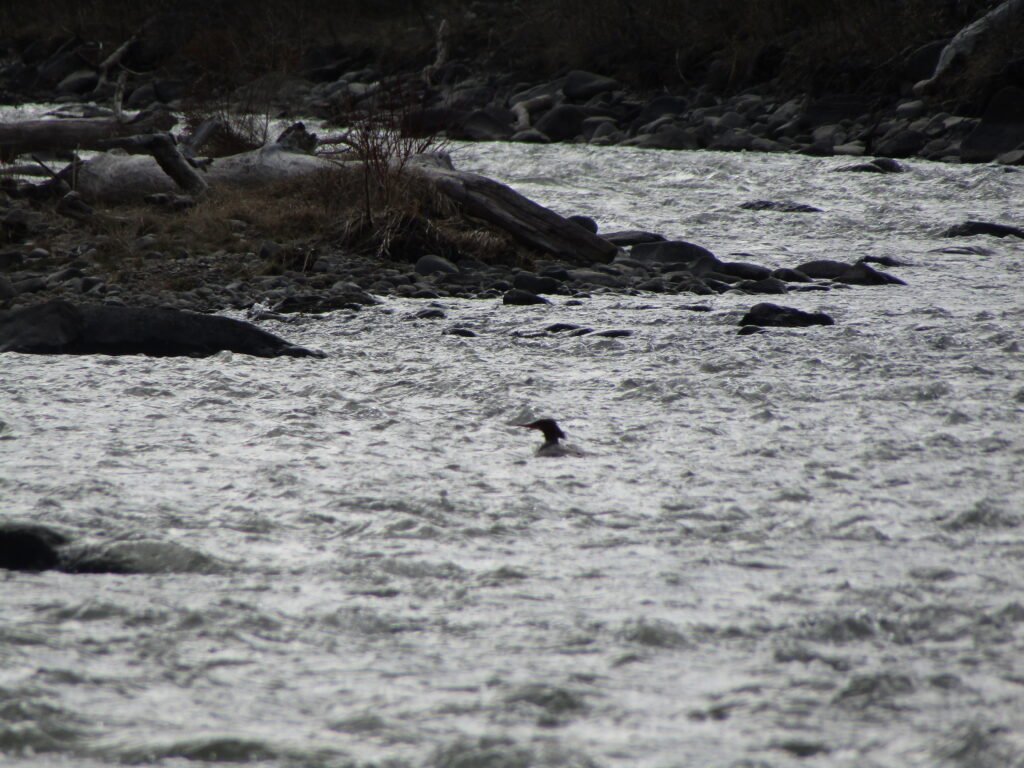 From there, I followed the flow down to the confluence of the Tieton and Naches rivers, then moves upstream on the other body of warter.
Naches River
Often fast and deep, the Naches collects from several tributaries, including the Tieton, before meeting with the Yakima and then on to the Columbia. Beautiful river, which is almost all Catch and Release and hides some excellent Rainbows, Cutthroat, and reportedly reclusive Browns.
Maybe, this year, I'll get to find out about that last one…
Running at 1450cfs, this was not as powerful and dangerous as I've seen it (forecast has it maybe hitting 2100cfs, in the next few days), but certainly nothing to take lightly.
One of my first stops was an area that, when the flow drips to more normal levels, offers one wide body of water.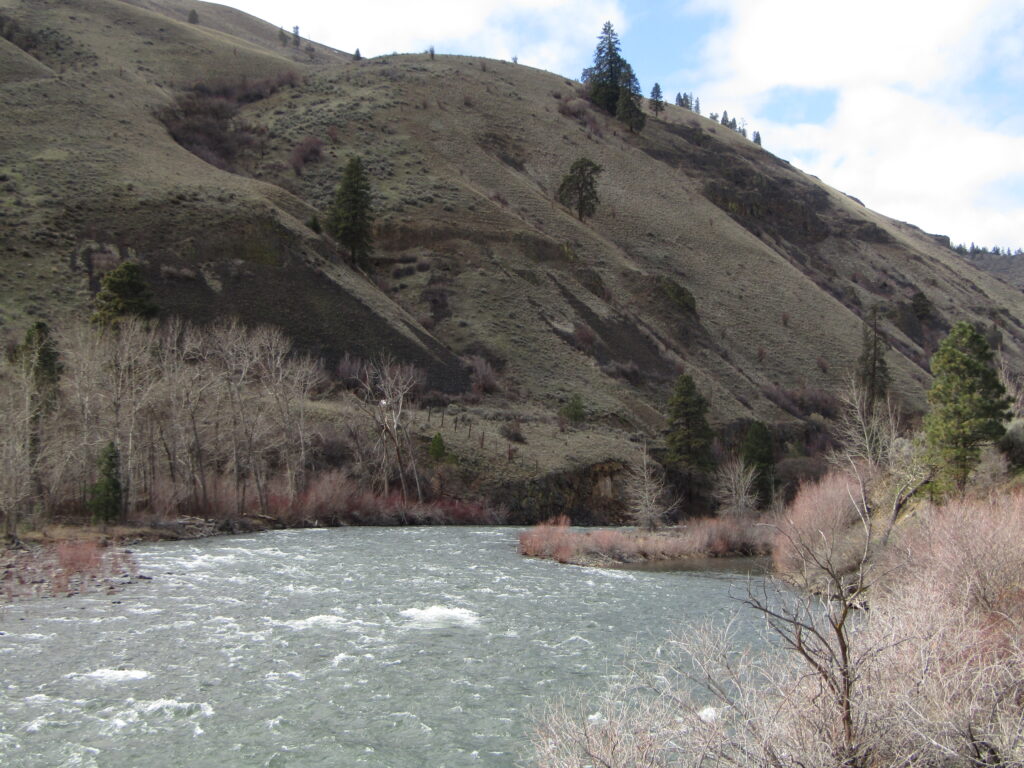 Today, as the picture kind of shows, there was a separate channel on the right, as well, due to the high water level.
Not a lot of new trees or other shifts in the river path, but the rest of the melt is yet to come, as I would observe later in the drive.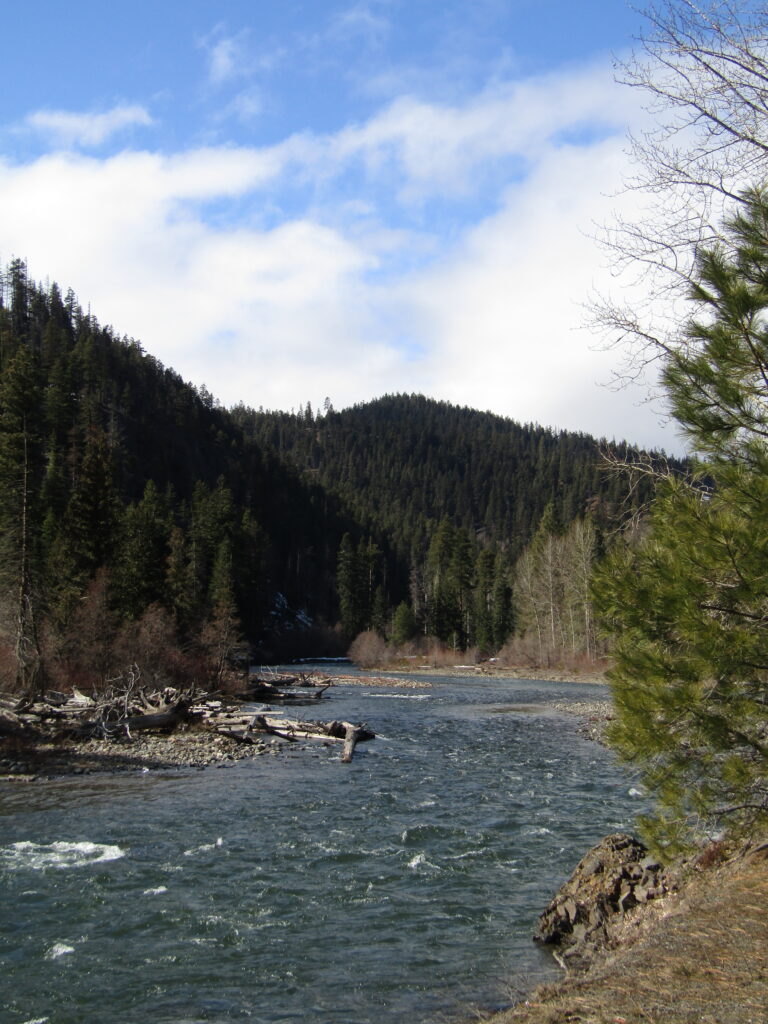 From there, I headed farther upstream, to see if one of my favorite tributaries.
Little Naches
This river is, to me, my home waters. Small, compact, with occasional deep hides, rocky riffles, and it wanders away from the nearby forest service road enough that you can wade to places where traffic cannot be seen or easily heard.
Love this river.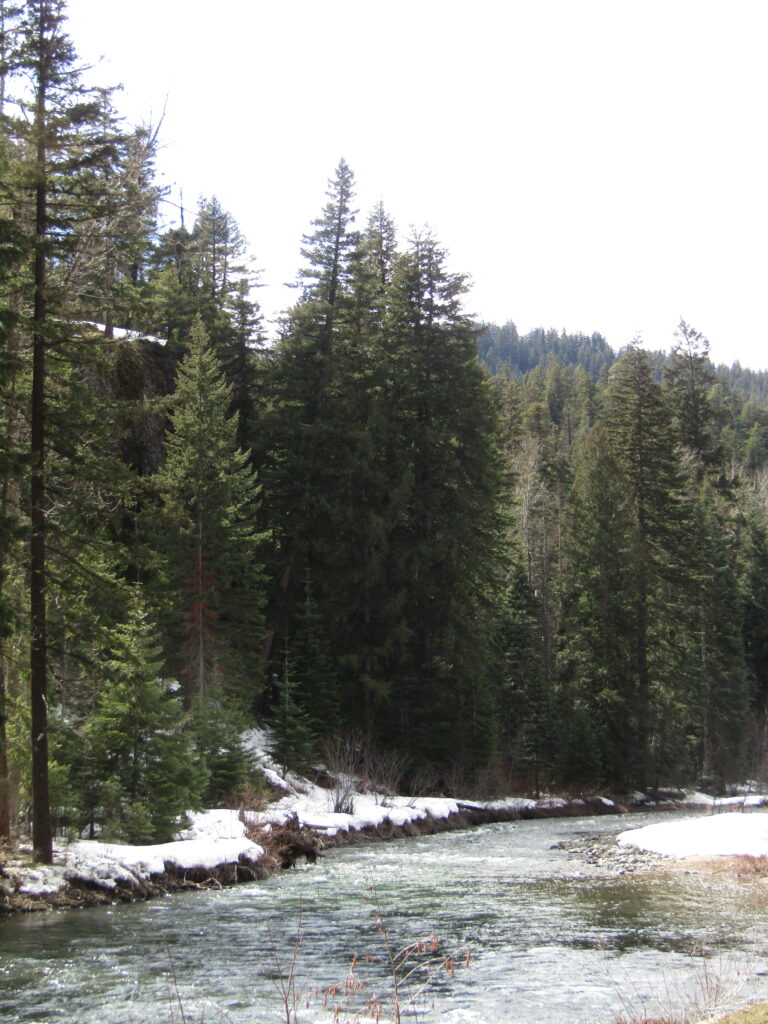 Running just over 300cfs, where I've seen it as low as 120's, it was full and fast compared to usual, but still not a monster by any stretch.
I found a few spots where trees had fallen into the flow, a couple of them crossing the river, but not much else had changed, since last year.
From here, I continued on to where another favorite confluence point is accessible. The junction of the Bumping and American rivers offers some excellent, deep hides where larger fish can be found, but unfortunately the access road remained closed, this day.
Next time…
Instead, I take a longer drive up the trunk road, and a few stops along the next river.
Bumping River
This runs past several campgrounds, connecting Bumping Lake (released at a spillway) and the American River (which later becomes the Naches).
This day, the Bumping was at about 845cfs, with snow on both banks, and running cold and fast.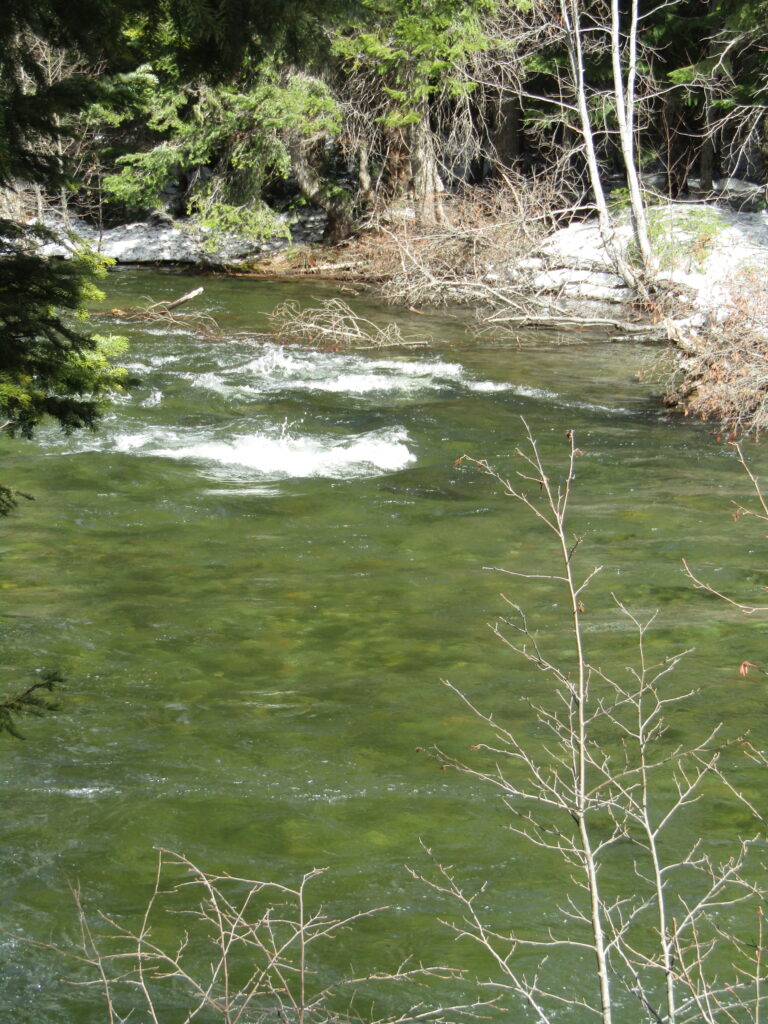 I love how clear this river usually is, as you can tell from the above view of the rocks on the riverbed, despite the rapid flow above them. Leaving the Bumping, I continue up to the American River.
American River
This one is unique, in the area. I've never found a reference to a lake or pond, from which it might originate, suggesting that it is purely melt, runoff, and ground waters. It is often fairly cold, by comparison, but still gets wide in some parts.
Running just over 250cfs when I was there, the day was moderate, but beautiful.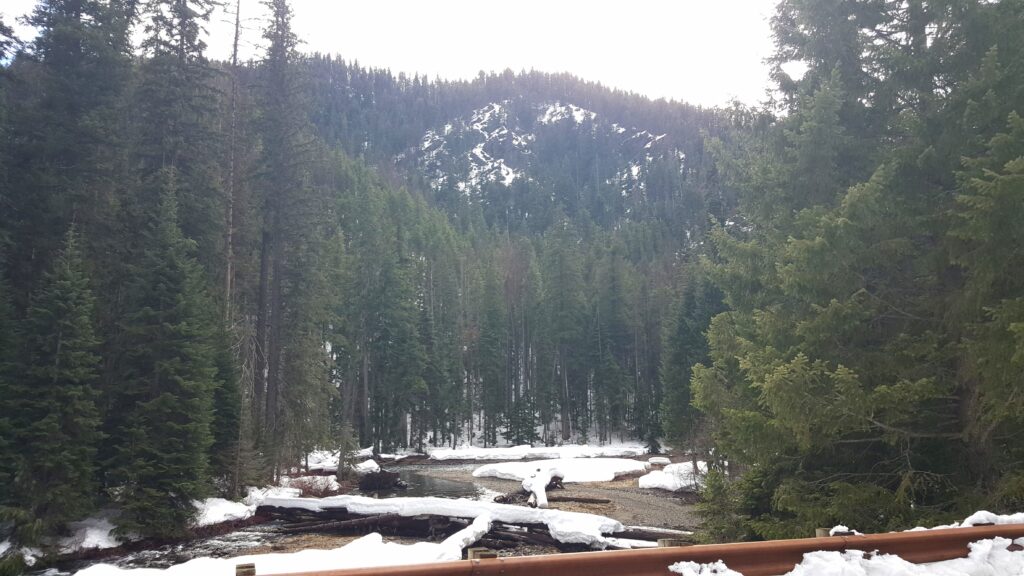 As you continue to drive up, there's a deep drop-off to the side, and a view that I never get to stop for. Today, it was only a couple of miles from the point where I'd be forced to turn around (this pass closes every winter), so I finally had the opportunity.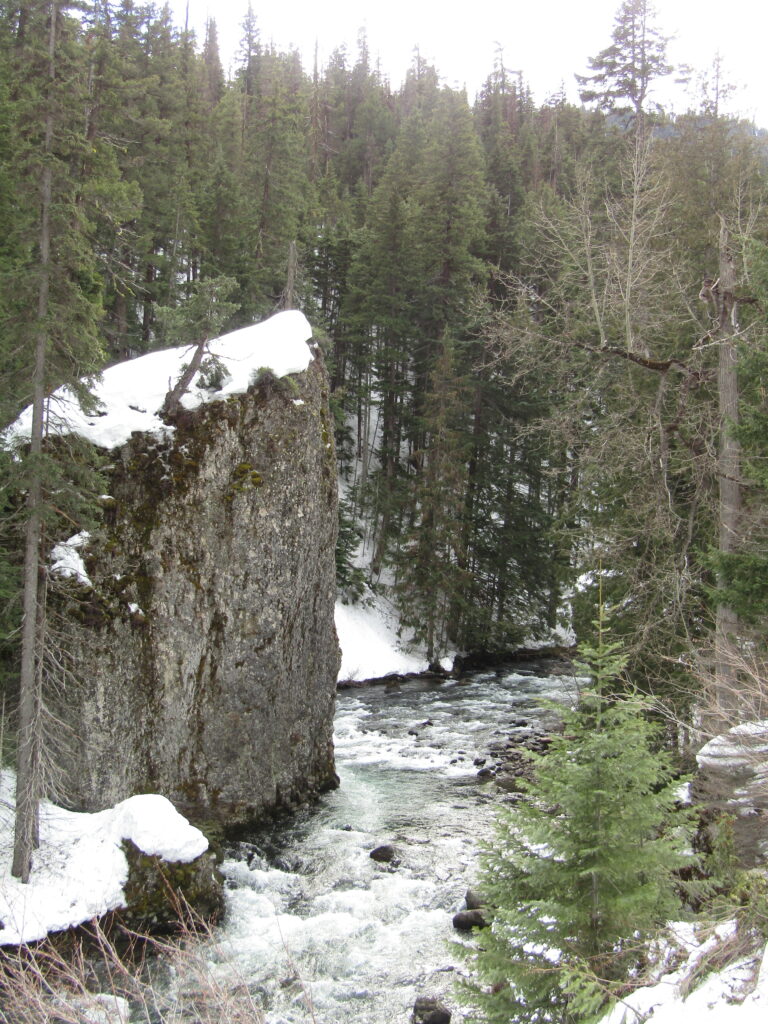 Someday, I will have to find a spot, downstream, where I can access the river and fish my way though here. I would love a pic from the base of that rock, with it looming over me.
At the highest points of the drive, air temps dropped to only the low 40s, but there was clearly quite a bit of snow left to melt off. Some strong currents, ahead, but the banks I could see looked great, the river beds not drastically altered, and the access roads generally in good repair. No bugs about, where I jumped out, but with the low nighttime temps, this is not all that surprising.
Very much looking forward to getting back to Fly Fishing, this year!
Tight lines…