We took a drive to Seattle, yesterday. It was time to deliver our daughter's friend to her home, then we visited another couple of places, and had a fun time looking for lunch. A drive home in cases like this is usually that combination of relaxing (I love long drives), sad (daughter's friend visited for several days, now back home), and also happy (isn't going home the best part of most trips?). Saturday's drive started out in this line…but ended up a bit off track.
Around 4pm, I got an email alert that there had been multiple accidents on the only interstate that takes us directly home. One in each direction, but the highway patrol was blocking off between Mile Posts 34 and 106, as that middle area is largely over/around the pass and leaves drivers very few places to pull off with services, if the closer to the middle.
We caught sight of the tail of the East-bound line in the distance, and they seemed to be diverting everyone off on a single exit, to avoid stacking on the interstate.
Oddly…that exit was the same one where I had done a couple of recent scouting trips on a new river (HERE and HERE) ….so…
Stop. Fill the tank. Grab munchies. Drive up the river to show the family, firsthand, where I'd been rooting around.
That Snoqualmie River, Middle Fork, did not disappoint.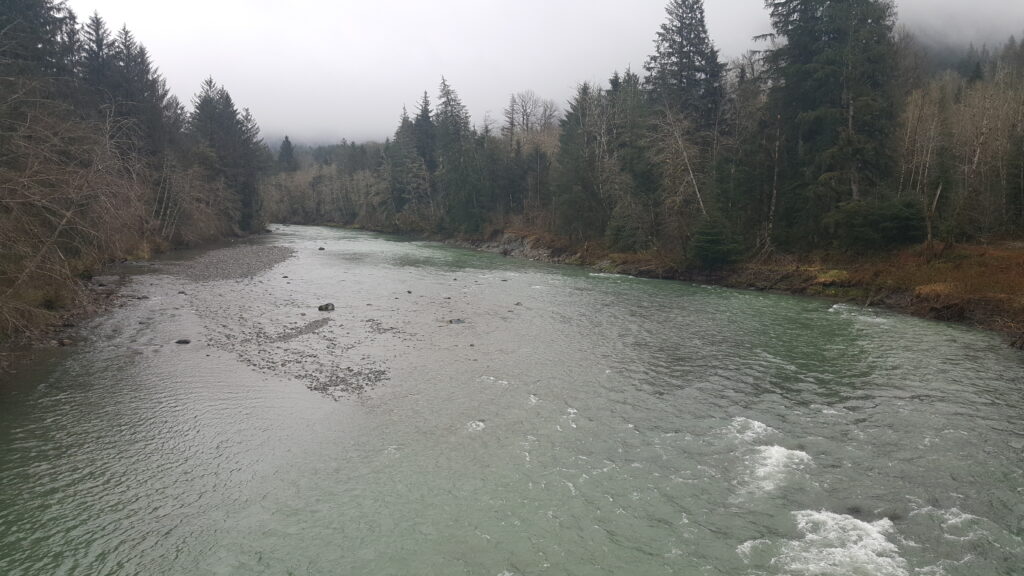 This shot was from a bridge, just after Champion Beach, that was referenced on a previous blog. River running roughly 1100cfs, on this day, so it was great to catch sight of a guy flyfishing almost in the middle of the river, barely up to his knees.
Nice water flow/depth gauge comparison, for future reference!
Off to one side, I also had a view of a creek that was running into the river, just before the bridge.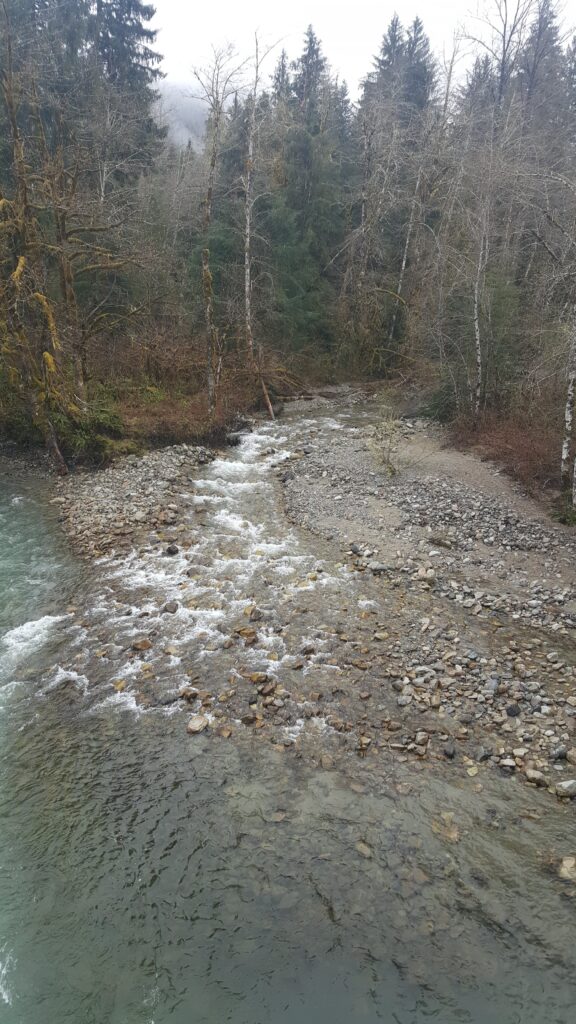 Love those confluence points, and all the delicious food that gets washed in for the trout… makes for a nice buffet line that I can try to interject a cast fly into.
Farther up, a few good views of the mountains, behind the river, as the family had the chance to get out and walk in the moist pine needle layer, to the edge of the river.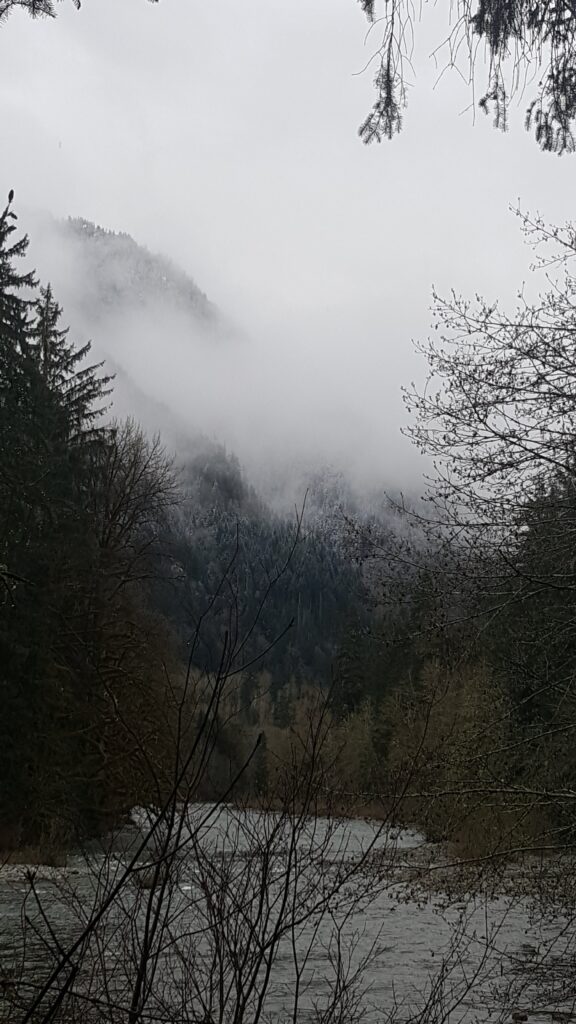 It was also very good to get out at the Russian Butte View spot, as at this flow rate I could see bottom in that near-side portion that looked like a dangerously deep trough on the last visit. With a good wading staff, it looked like I could probably get out to the 10-15′ point, where the bottom rises up to a broad, level area that looks to have maybe 2′ of water, lots of rocks, and access to the overhanging brush and edge troughs on both banks.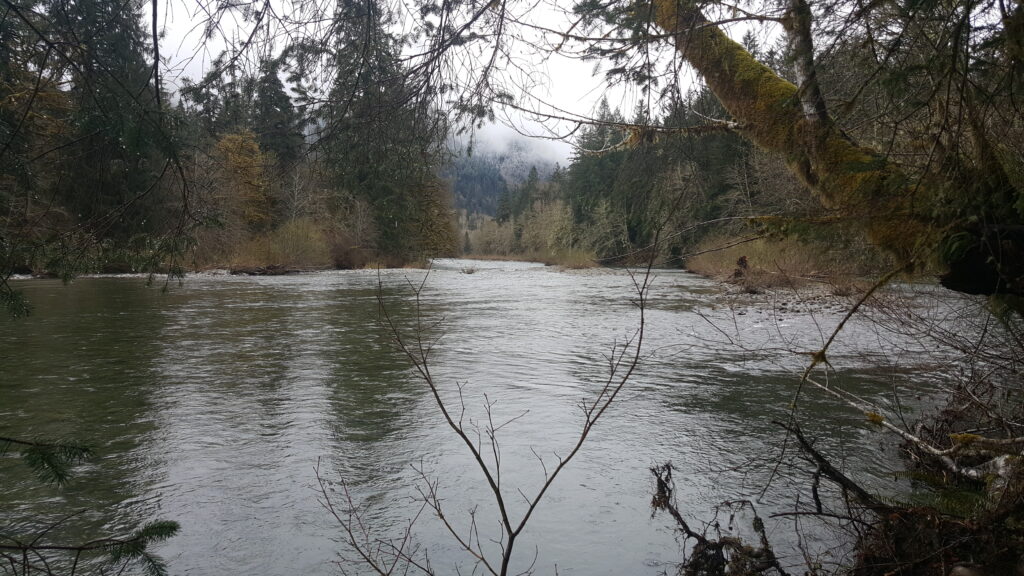 Really looking forward to warmer weather, but it certainly was nice to see the river at this flow rate, to get a comparative point of view.
We climbed back in and returned to the interstate just as the lines began to return to motion. Perfect timing.
On the way up to the pass, it was clear that the roadways were still in horrible condition, and that the two (yes, two) plows that I saw between our return to the interstate and a town 30+ miles on the other side of the pass were not sufficient.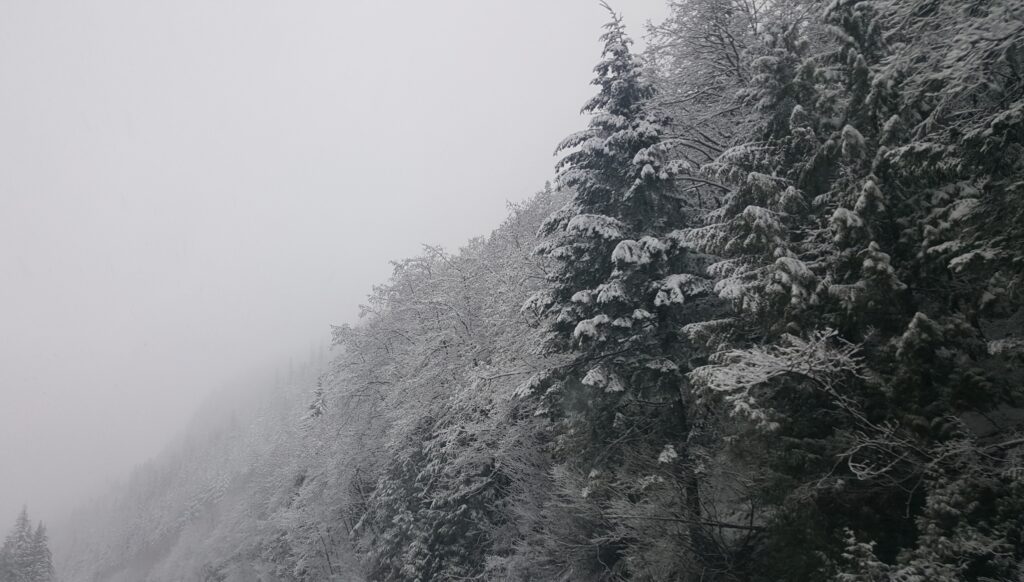 I understand that one of the collisions, in the other direction, took perhaps 5 hours to finally get cleared. Rough, to say the least. Best wishes to anyone involved, and hoping nobody was seriously injured.
Hoping that loads properly for everyone.
I thought I'd leave you with something to watch, listen to, and just relax.
Tight lines…