After more than two weeks without fishing (Yikes!), I carved out some time to get into a river, last night. Much needed stress reduction, even if just from the physical stress of 4 flights, layovers in SEATAC, 1300+ miles driven, and sleeping in hotel beds for more than a week.
I knew that slipping into a river, especially being able to wet wade, would solve all of that.
Air temp, as I drove out around 6:30p, was 95°! I knew that the drive into the mountains usually drops the air temp by roughly 10°, so wet wading was still going to be a good option, finally.
Nothing like the direct feel of the water on my feet and legs. Enjoyable in waders, but exceptional with just wading shoes and nylon cargo pants on.
Arriving in the Little Naches River area, I was greeted by a beautiful sky, water running around 102CFS, at a cool but not frigid 62°.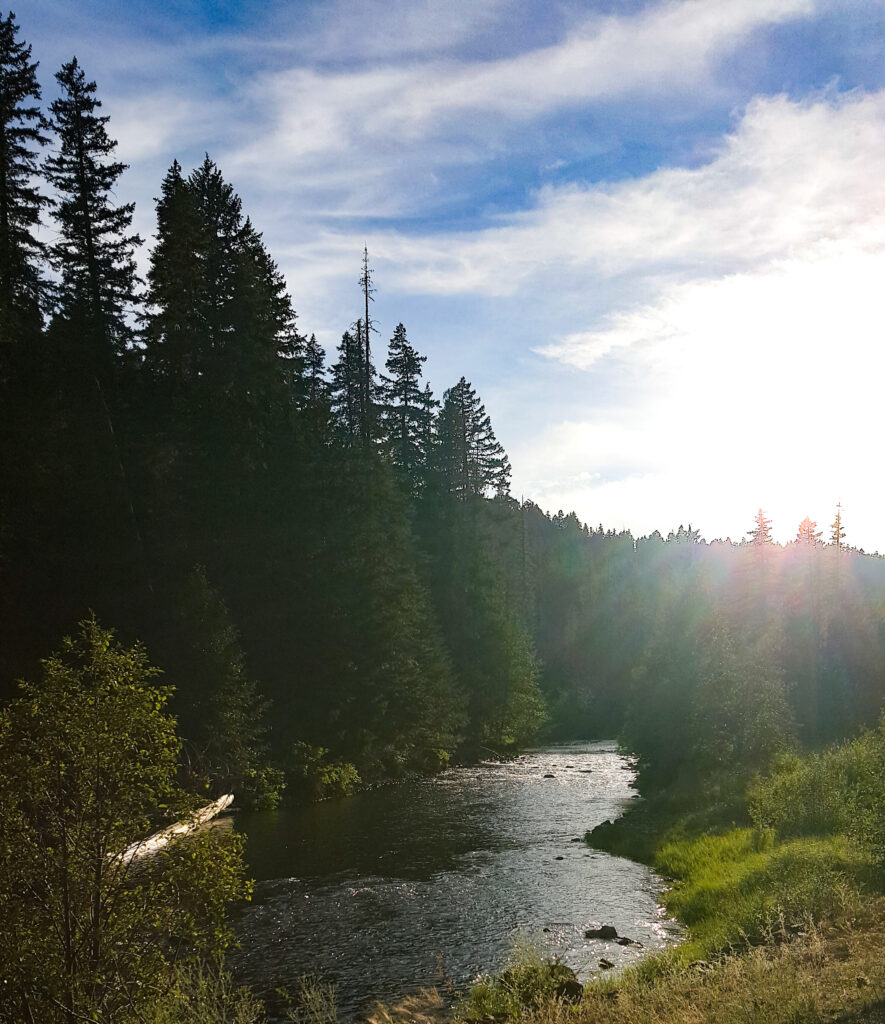 Perfect evening. Even some mayflies and possible caddis in the air.
Only one of the three main places I like to wade in appeared to have any people present, so I picked the middle spot and geared up. Making the walk through the trees and brush, I came out into this spot, and was very pleased to see that the water was nicely clear, the level truly down to the point where the turbulence had subsided, and I could already see an occasional surface take appearing along the main debris seam.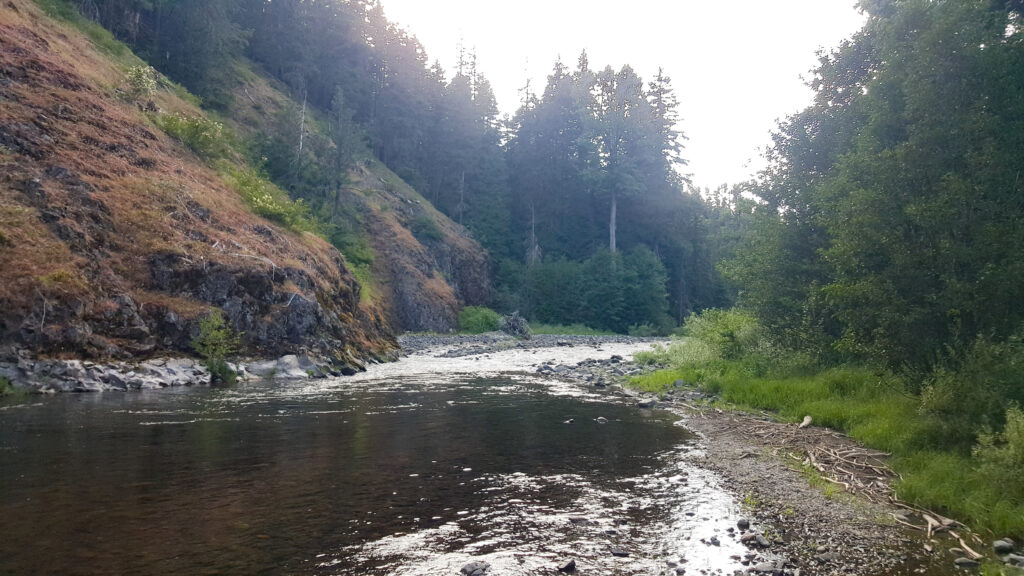 I had tied on a small Parachute Adams, when gearing up, but found that it was not consistently floating as it should. Even with that, it got a few splashy refusals, so I knew at least that the trout were actively looking up. Upon pulling the fly in and preparing to switch to an Elk Hair Caddis, I realized that the Adams was one of my earliest attempts (making it how many years old??) and did not have we much of a hackle umbrella or as many tail fibers as it should. Maybe time to repurpose it.
With the EHC on the tippet, though, I was connected to a small trout within minutes!
As much as I enjoy just being in nature, in a river, that first connection with a trout immediately adds a higher level of satisfaction. I don't generally go away with a sour feeling when nothing bites, but my smile is probably a bit wider if they do…
With the fly swap, I connected with a couple of trout in the first half hour, or so, before wading across those riffles, and starting a walk/wade up the far bank.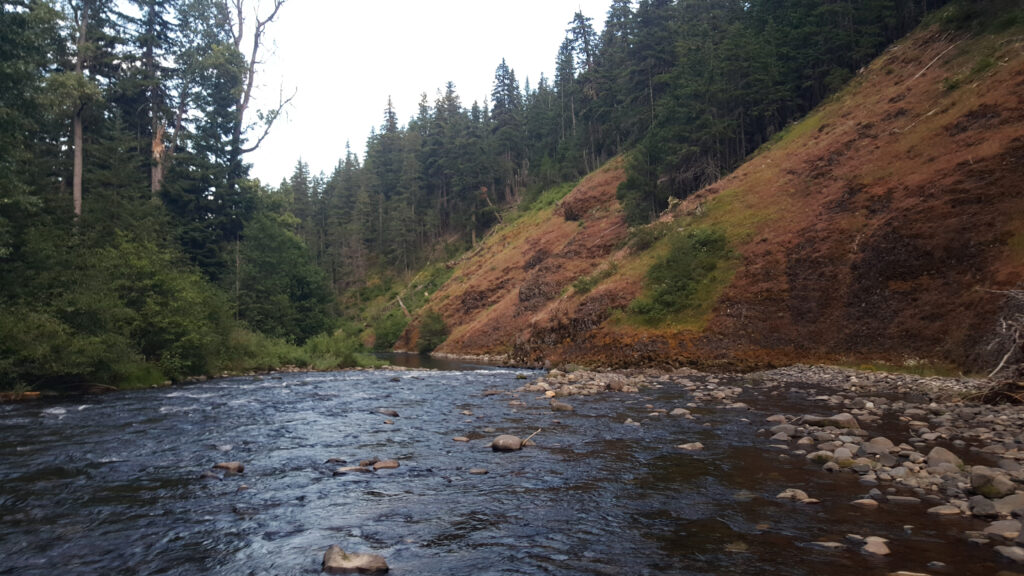 That pic is looking back downstream, already wading up-stream. The section this leads to has a long, dry bank that allows for steady reach casting and long drifts, with a fairly well-defined center seam that passes over reasonably large rocks.
In other words, excellent trout waters.
The EHC continued to connect with some small trout, but I could see larger specimens that were active, so I paused to switch over to a burnt orange stimulator.
That definitely did the trick!
The run has a total length of maybe 100 yards, but as I worked my way up the length of it, I connected with trout every few minutes, until I hit the bend at the end. Many of them were well over the requirement to be a "keeper," per Washington State.
No, I didn't keep any, last night. It would have to be a very large, quite old trout for me to keep it, and this little tributary does not often offer those up. I've returned the occasional 14-15″ rainbow in this area, previously.
At the bend, looking into the following stretch, I debated wading back across and continuing upstream.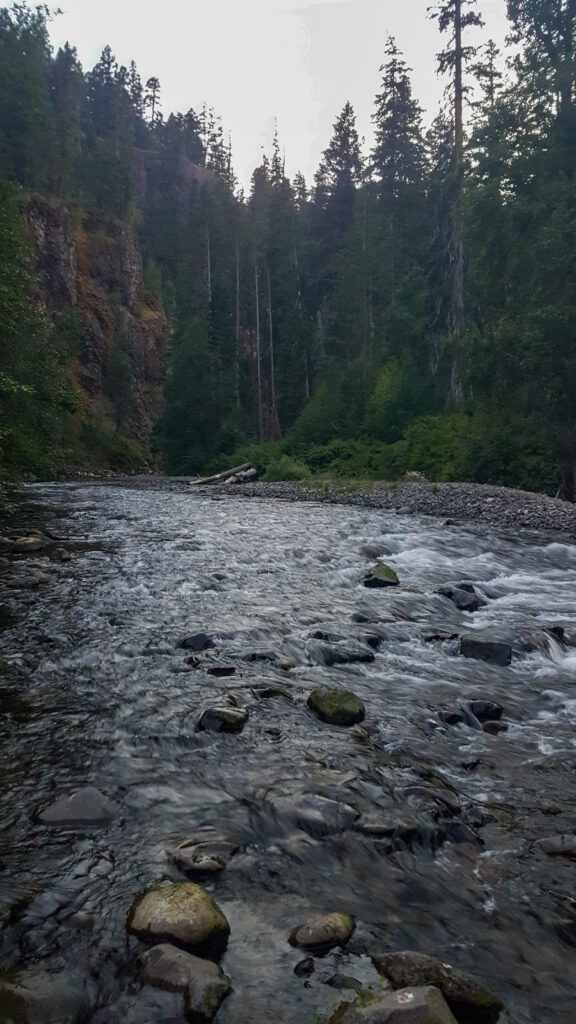 In the midst of this, I noticed a new surge of what appeared to be larger mayflies coming off the water, and fresh surface takes ramping up. I knew that the Stimmy was probably done for the evening, at least on this stretch, so I picked through one of my fly boxes and found a #14 Adams with disproportionately long wings, and thought it was worth a shot.
Tying that on, I immediately started connecting with trout, again, in the same stretch I had just finished working!
How often does that work?!?
I walked/waded the same stretch and caught yet more trout in all the same places. Most of them were 'Bows, but I did have this little beauty come to sample that Adams.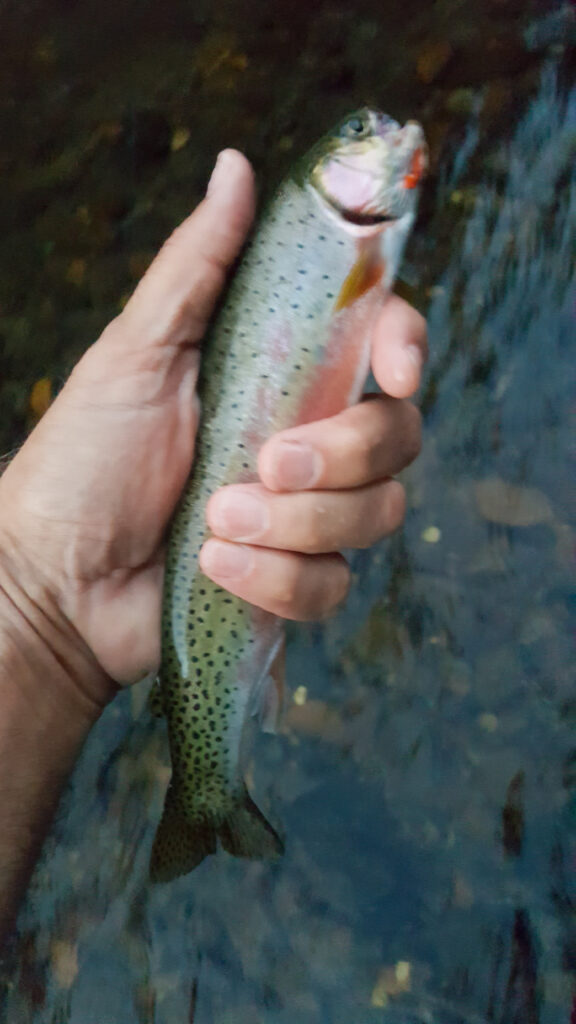 Sorry for the blur, but the light levels were dropping quickly and my phone camera struggled to adapt, forcing it into longer shutter speeds.
All told, I fished for only about 90 minutes, but I think I ended up with roughly a dozen fish caught, and more hooked but managing to dislodge before I brought them to me.
Quite a nice night.
I didn't leave the river until it was dark enough that I could not see the fly on the water.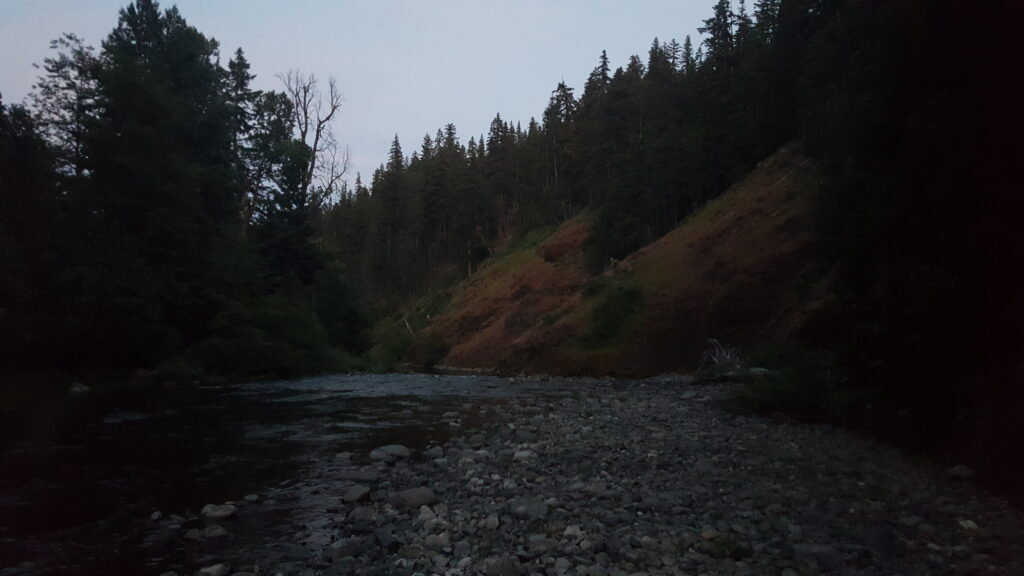 The four flies I tried: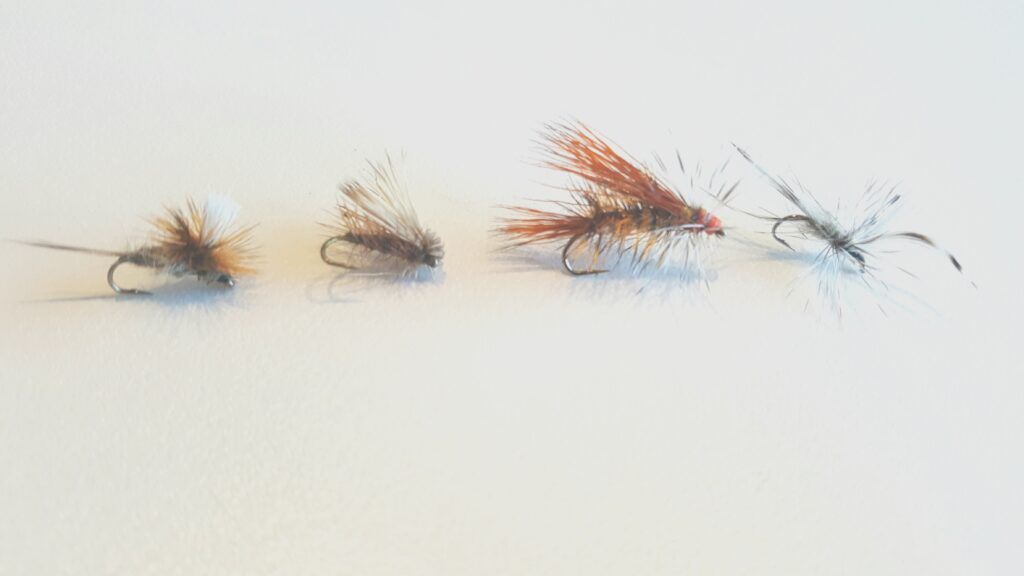 Note the small diameter and sparse tail on the Parachute Adams. I will likely replace it in the box, and perhaps keep this as a reminder of my early tying efforts. It may well be 8+ years old. The bent wing on the traditional Adams resulted from a trout seeking to sabotage the fly by chomping down on the wing repeatedly. Nice try. I'll form that back to as straight as possible, before putting it back in the box.
Altogether, an excellent evening of fly fishing.
Can't wait for the next one.
Tight lines…