So, let's just clarify this, in advance: connecting with a beautiful Rainbow Trout on the 5th cast is a "win," right? Then, having a fish on the line roughly every 5 minutes after that (on average) makes it … ?
An "extra win?"
Not sure of a fitting label, not that labels necessarily mean much of anything, but all of it makes for a great late-evening fishing outing.
Wednesday night was one of those "I'm-in-Seattle-but-don't-feel-like-being-here" kind of times. Too much activity. Too many people. Too many sirens.
The solution, clearly, is to spend more than 90 minutes on a drive to get away. That is, it's worth it if your drive lands you on a road like this…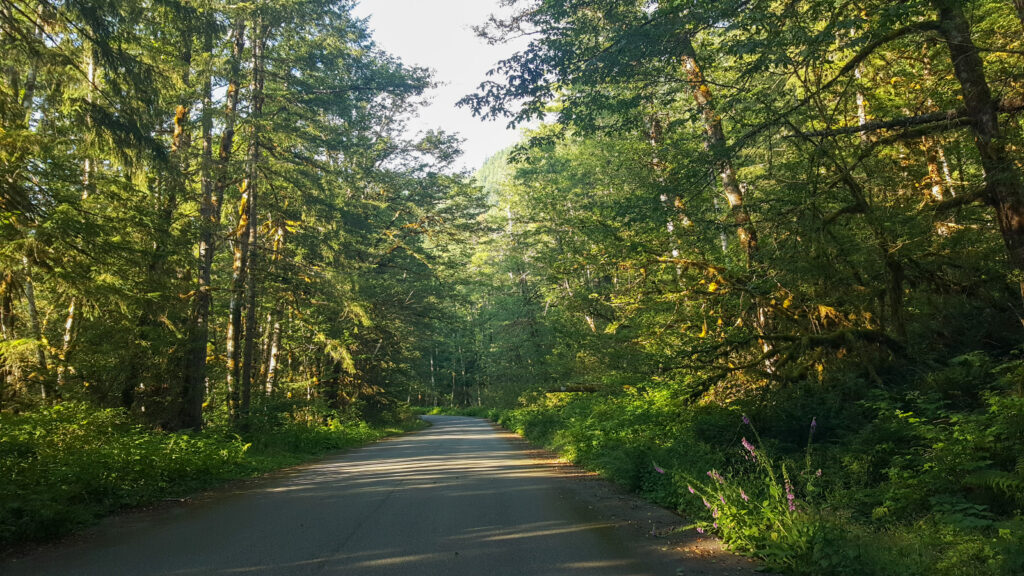 … with your fly rod and vest in the car, and your wet-wading pants/footwear ready to go. Temps in the high 90's, in Seattle, so even a drop as one climbs up the Cascades would still mean an acceptable level of comfort in the water.
I've often thought back to my previous visit to the Beckler River area (HERE) and wondered if the warming passage of time had made a significant difference in the fishing conditions. This was a great opportunity to find out.
Funny how, when thinking along those lines, it's easy to get focused on wanting to fish the specific spot, again. Pulling up to it, I saw a conversion van backed into the place where I had parked, on my first visit. Noting that the vast majority of other places I had passed to get there were also occupied, I began to wonder how far I would need to drive to get to a good wade-in point.
Not that I was despairing, but really just wondering how long it would take, as it was already past 7PM, and I knew I would not have a lot of light left if this search took too long.
The answer, on this night, was to drive to the end of the paved road…then look to my left just before rolling onto the gravel.
To be fairly exact: 47.802882°N 121.293176°W
There is a spot there for dispersed camping, that has half a dozen tent spaces, occupies the inside edge of a split/curve in the river, and has…
…Absolutely Starving Trout.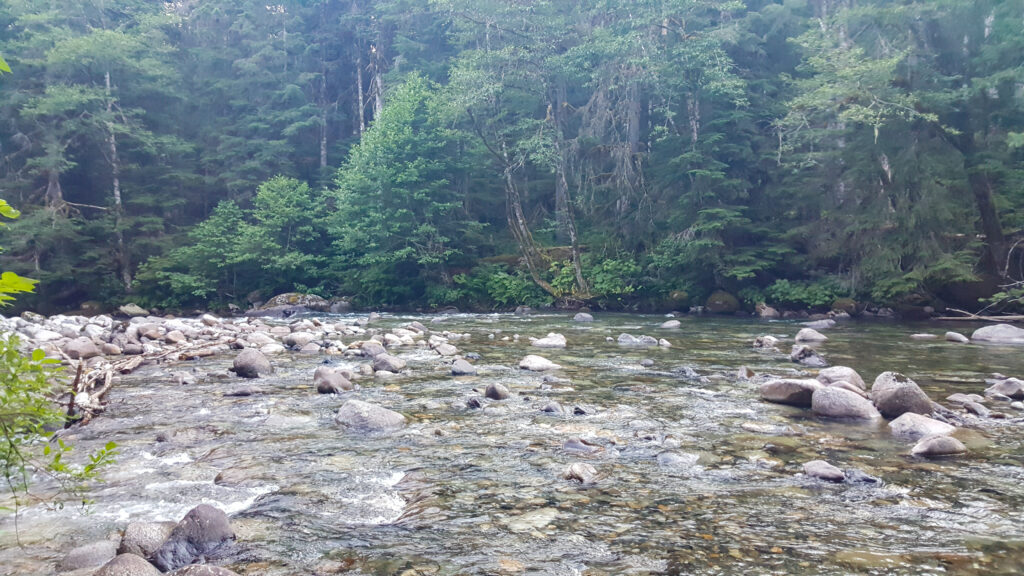 For a guy who loves fishing pocket water, this is a world-class amusement park. Yes, there is a deeper and faster line in the far third of the river, but so many rocks, pools, and pockets around the rest that one can stand in a strategic location and practice technical casting into a score of different spots, before having to move on.
Then, you only have to move up 6 feet to start over, again.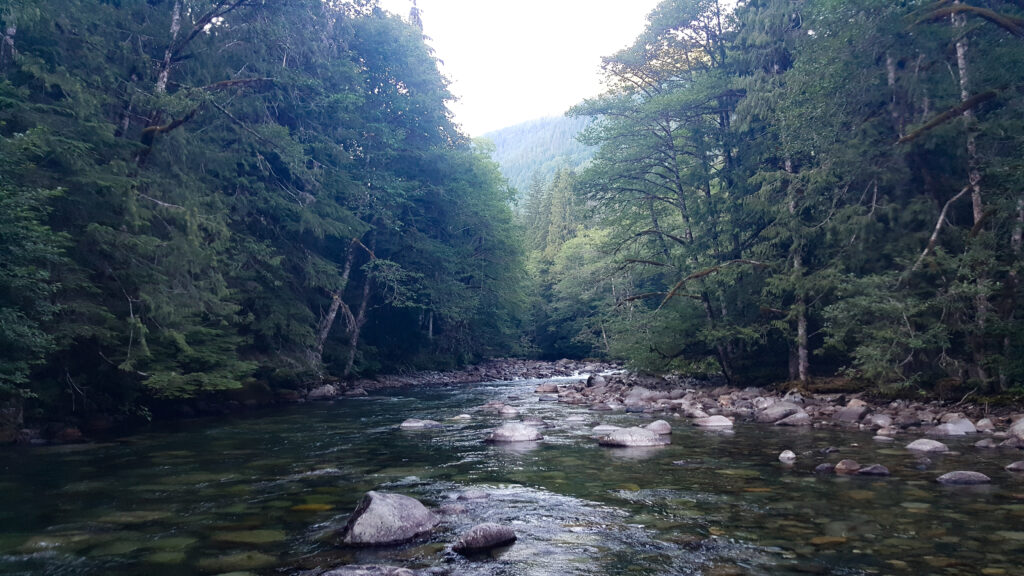 As indicated, first trout was on my line on the 5th cast. This is a high, mountain waterway, so I don't expect to get really big fish (although the deeper sections of the far side probably do have some larger residents, if one nymphs through them), but the first was around 8″, fought above it's weight, and even managed a couple of jumps as I brought it in.
For a river running just a degree or two below 60°, the fish were very, very lively.
I worked my way up to the white water you can kind of see in the distance, connecting with at least one trout each time I stopped to work the casting targets I could see from the incrementally new vantage point, then circled back down to the bottom, changed fly, and hit a lower pool before worked my way back up until I overlapped the first section, where I had started.
For the entire time, I used only a #14 Parachute Adams (the re-tie of that one from a previous trip, that had a small parachute) and a #12 Stimulator in burnt orange. First pass, with the most productivity, was the Parachute Adams, so I guess that re-tie did the trick.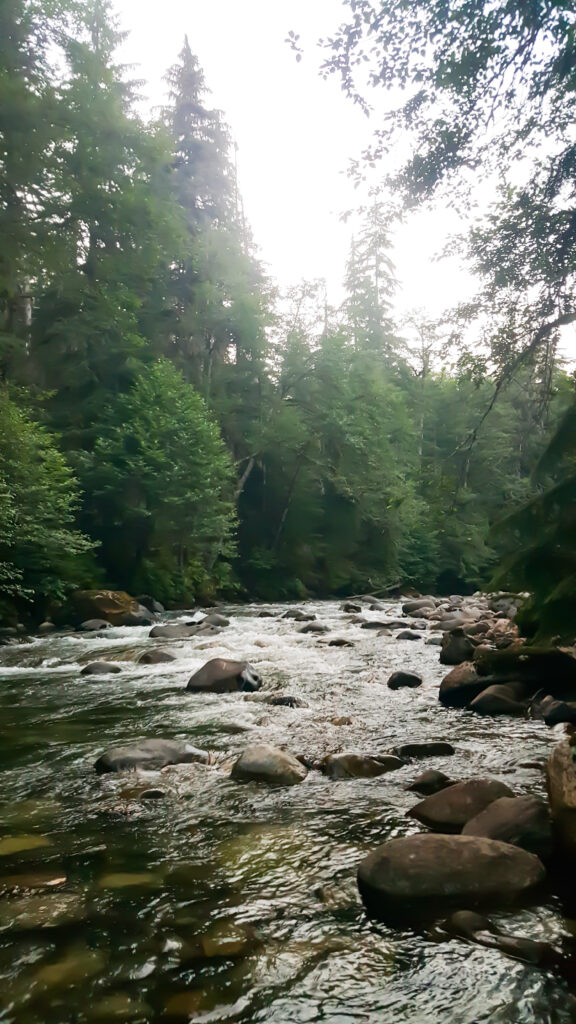 I mean, can it get much better than this??
I do have to admit, the sub-60 water temp did eventually work into my wet toes, but it's worth it when you're connecting with these, so regularly.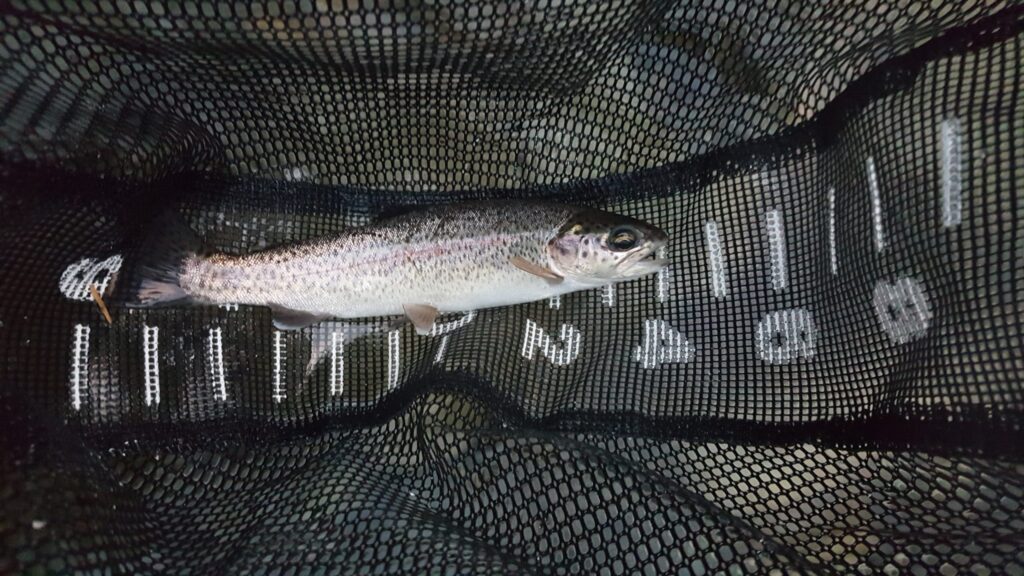 Yes, it's a rubber measure net. Even when I hold a trout, I make sure to thoroughly wet my hand, so I can put them back in as close to the same condition as they were, before being foolish with my dry fly.
Between the water temp and my later arrival putting me into deep twilight, I managed only about 90 minutes of fishing. Although I lost count, I suspect I caught roughly 20 trout; mostly rainbows.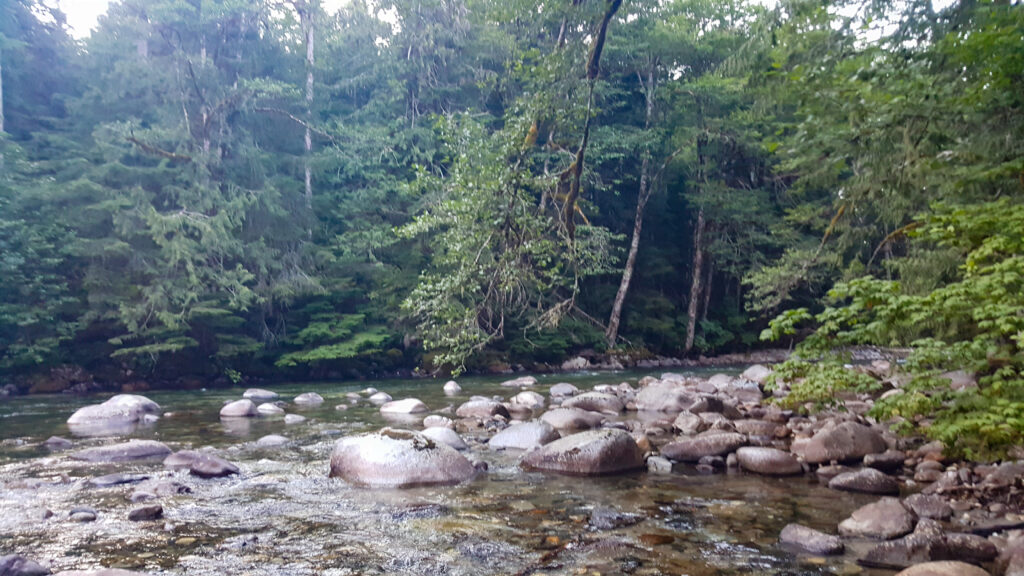 Such a great evening escape. I will definitely have to come back, in the future.
On the way back down west-bound US-2, I stopped at a bridge over the Skykomish River (into which the Beckler River flows), next to the town of Index, where there is a footbridge attached to the vehicular span. A great spot for a future sunset pic, but not a bad option for a fading twilight long-exposure shot. This one was a full 15-seconds, and modified to de-haze for clarity.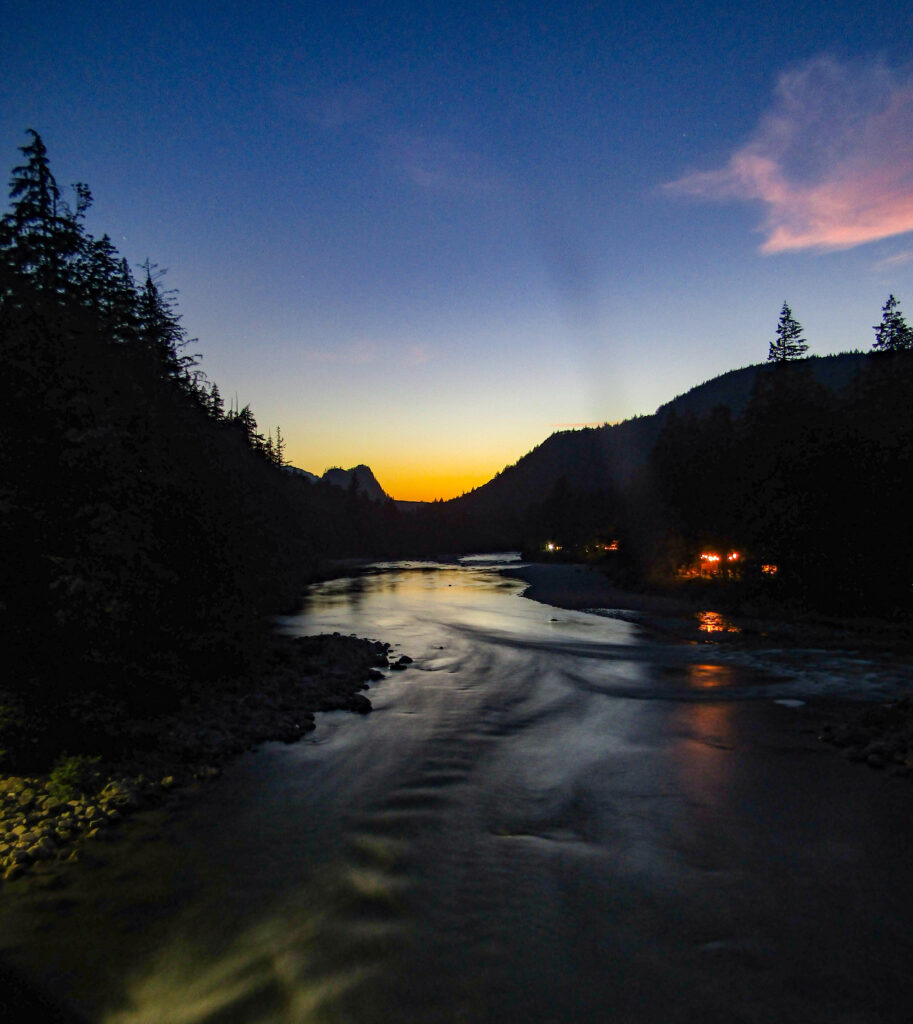 Excellent capper to a great evening.
Tight lines…