Okay…not really, but I promise to explain.
I can't go out into nature, specifically in and around trout-friendly rivers, and not want to fish. If, as on Saturday, I end up seeing some 2′ river monsters, it makes it that much worse! It sets up a growing, gnawing need, that can only be subdued by stepping into cool, flowing waters, grasping a cork rod handle (with that faint oilyness of fly flotant on the fingertips), and hearing the gentle rush of fly line shooting through the rod guides.
No, I suppose that need could also be suspended via medically-induced coma, but that's just not the point. Also, I suspect I would dream about trout waters the entire time, no matter what doctors claim, and wake up exponentially worse.
Sunday, a bit after dinner, I headed out to quench that thirst.
105° as I started down the driveway. I was hoping the combination of the altitude change and the late hour would give me a bit more than the usual 10° drop, or even wet wading might not completely cool me off.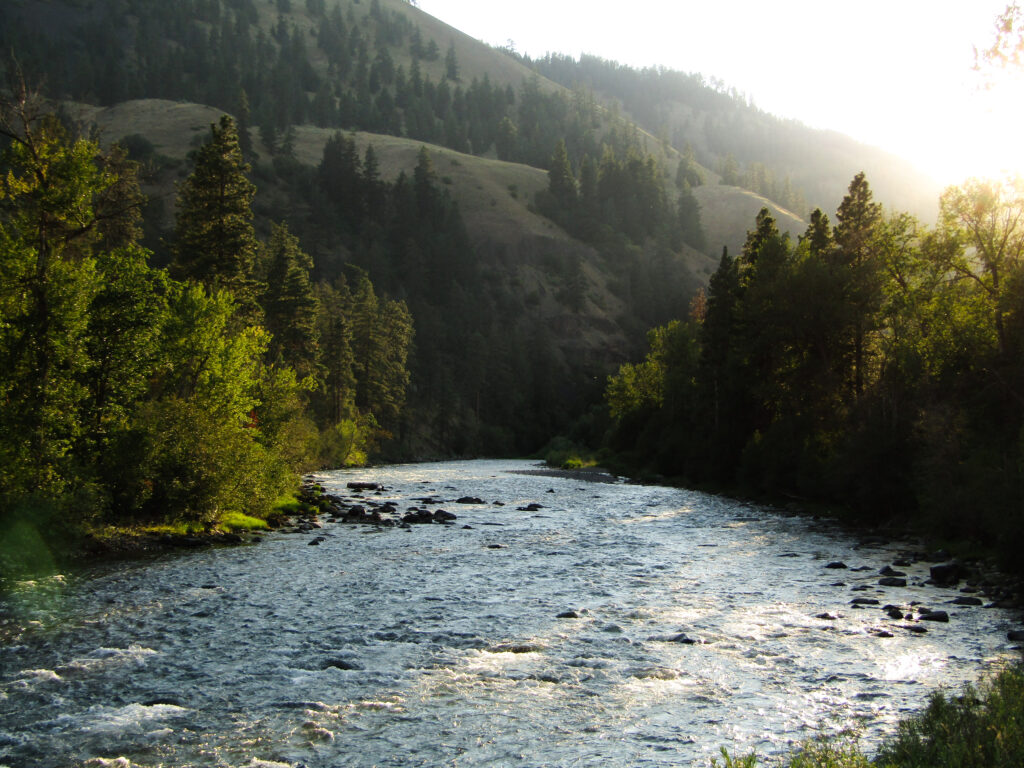 At this point in the drive, where I felt compelled to pull over and grab a pic, the air temp had already dropped a few there's a, and it's only about 2/5 of the way.
I stopped at a campground, fatther along the route, to drop off a few items for our daughter, who was camping with friends. It's a dad's job to randomly show up and embarrass their children with unwanted assistance, right? If so, job done, at least for that instance.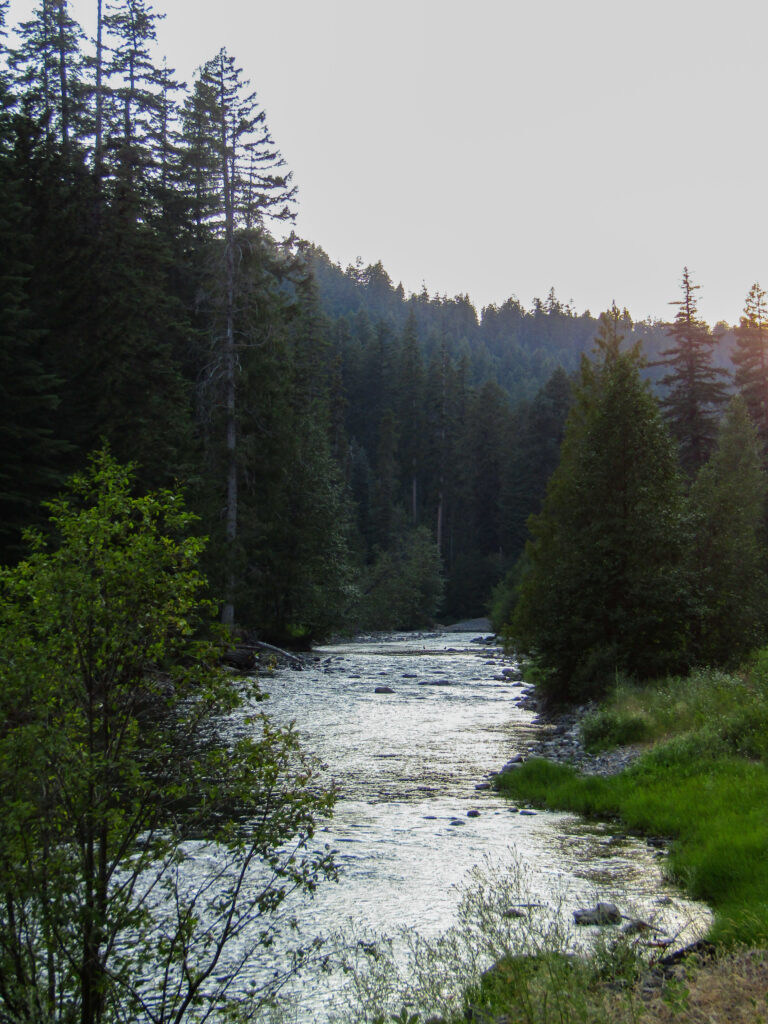 Finally pulling up to the series of spots I enjoy most on the Little Naches (the nearest spot to the previous day's sighting of larger fish was out of reach, given the time of evening), I was quite happy to see that two of my three preferred areas were unoccupied and that the air temp was registering only 86°!
That's two wins!
I quickly geared up, tied on a Parachute Adams, and headed through brush to a good wade-in, below that old pool I enjoy fishing so much.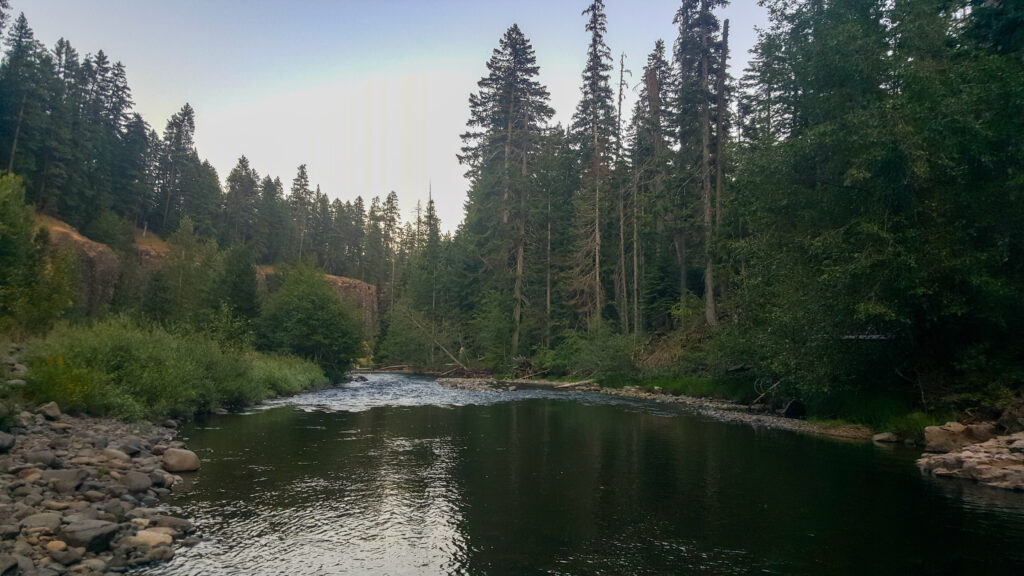 I know I've shared pics from this location, before. It's just such a great spot to let go of stress and start the recharge. It's also a great view of how the river (really more of a high Cascades stream, at this point) looks at only 86cfs!
Only the deepest troughs remain as unwadable at this water volume.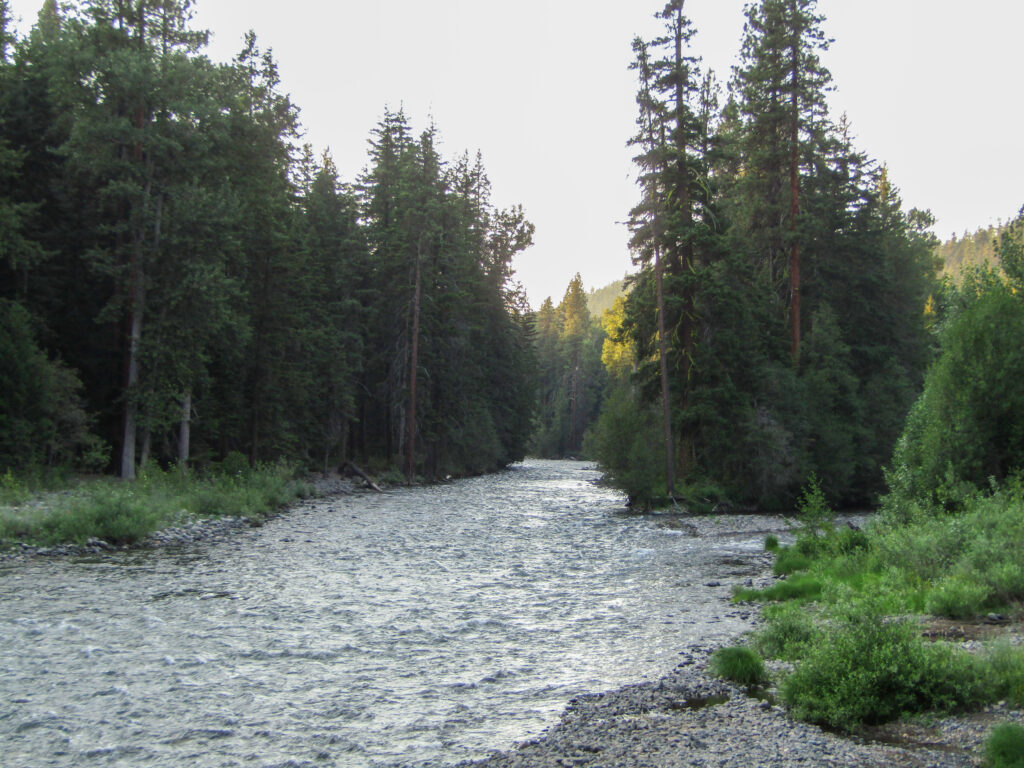 Looking upstream, I could see surface takes already occurring. I happily started casting upstream and at an angle, to get the best float I could, only to quickly get the message that "We're hungry, but not for THAT."
Switching to a different variant of Adams, and working my way upstream steadily, I continued to get frequent rejections, some of them even leaping out of the water!
Funny, as I could see mayflies in the air, but not the end of the options, by far. Next up was a burnt orange Stimulator, which the fish in these waters often go after. I fished that until I hit the tight bend just below the pool, and kept getting the same responses as with different the Adams flies.
Finally, I remembered that I had a pair of "special" Elk Hair Caddis in my box, that I didn't recall giving a real/thorough try, yet. Pulling one out, I tied it on, waded to the far side of the riffles that flow out of the pool, and started casting and working my way to the core of that pool.
A twitter buddy had suggested, some time ago, that I keep a few that are tied with CDC, so I pulled together a pair of EHC with those tendril-like feather fibers for the body. They still have elk hair "wings," but the rest is a mass of those loose and wavy legs that keep it afloat.
With the night closing in, and a hatch starting to roll off the riffles above the pool and spilling into it, I started casting into the near seams.
Oh. My. Word.
One would think these poor trout had not eaten in weeks. Yes, they were starting to jump for the hatch that was accelerating, but I think I had a fish on with every 3rd or 4th cast!
Some of them, as you would expect, were those obligatory young and exuberant (read as: unwise and therefore easy to fool) rainbows, but mixed into that were some respectable Rainbows and this lovely Cutt.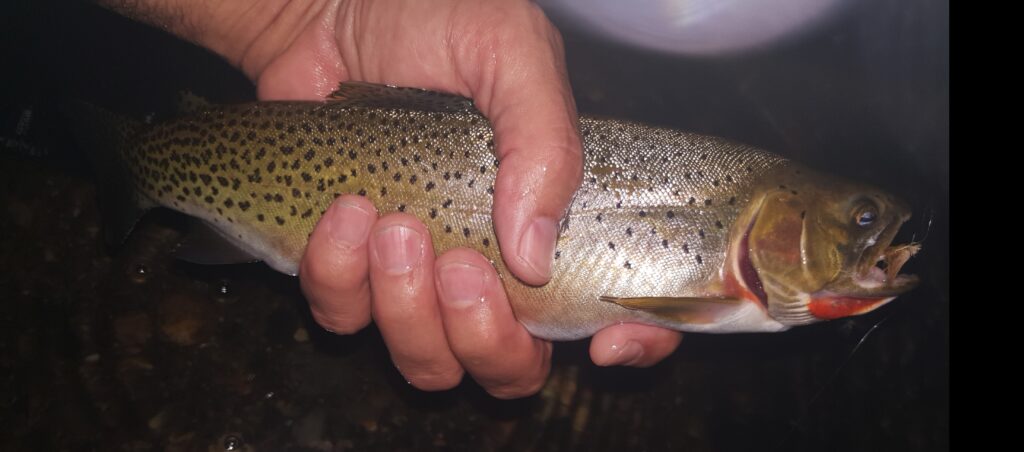 At only a fraction of an inch less than a full foot long (let's just log this as 12″, shall we? No? Fine, we'll stick with full transparency. No fun.), this fish was stocky!
Immediately after I released it, I stood back up and discovered that the hatch was now also a swirling swarm of something I could not see, due to failing daylight and their small size!
I truly wished I had goggles on and a scarf around my face, as I felt like it was a storm of living sand, bombarding my face! (See, I told you I would explain that title!) That was as good an ending point, and reason to head to the car, as any. Besides, as dark as it was getting, even an otherwise simple wade back across could get tricky.
By the end of the evening, I had tried 5 flies, with the last two getting absolutely hammered. Yes, they are almost the same (one has the CDC tendrils trimmed a bit), but the first one quickly got clogged and unable to float well, as a result of seeing the inside of so many trout mouths!

P.s. I didn't notice a difference in how eagerly the fish took them, so I may just leaves the CDC long. I also plan to tie a couple Stimulators with CDC bodies…just to see what happens.
Such a great evening. Looking forward to a return trip, with the next batch of test flies, in the near future.
Tight lines…